This week may be a bit longer than normal after a week off and too much gnashing of teeth over reallocation decisions.
Another great roundup of recent analysis and news; many of commentators and referenced sources are in my standard readings.  i still believe that Q2 earnings reports will have major influence on all things stocks for 2nd half of 2017 – https://seekingalpha.com/article/4086427-s-and-p-500-weekly-update-fireworks-another-dow-theory-buy-signal
a short example of why the headlines on a data set may not always tell the whole truth … the disection of jobs numbers is much more important than the overall jobs added or unemployment rate reported.  where were those jobs and are they creating growth or maintaining the current picture –
GE … i own it.  think that it's getting fairly priced (for an entry point), but i just cannot pull trigger to buy more when so much of their business is tied to either oil / gass or nukes.  My cost basis is <$14, so i doubt i will sell soon, but can't buy more.  https://seekingalpha.com/article/4086226-general-electric-buy-dip-will-last
S&P earnings are going to be interesting and as stated before an important pivot point (personally, i am looking at revenue and forward looking statements – not so much the absolute values but the confidence with which companies talk about the next 6 months … less uncertainty or more headwinds, which will it be?).  FactSet has the overview data of reportings.  https://insight.factset.com/earningsinsight_07.07.17
Jeff Miller pointed to BLS data on unemployment and astutely points out the margin of error (confidence intervals with the data) … for us data geeks, this is an important view, as so many commentators bounce off an absolute number rather than the range, and the 90% ranges are fairly large.  https://www.bls.gov/charts/employment-situation/civilian-unemployment-rate.htm
Great quote from Jeff Miller's weekly update this week https://seekingalpha.com/article/4086455-weighing-week-ahead-seinfeld-market

"Stock market valuation. Stocks overall seem mildly attractive if you consider expected earnings and interest rates. More importantly, some are significantly overvalued and others are attractive. Stock and sector picking are more important than market valuation."

Watch for Brian Gilmartin's update later today for S&P earnings update http://fundamentalis.com/?p=7050 
Top Watch Items for this up-coming week (possible entry points)
Recent falling knife catching exercises – a mini post-mortem
TSCO has been one of my recent disasters.  I bought it all the way down, basically starting at $58/sh.  I thought a floor was established $51.50, but when the price declined to $51, i sold 50% (the most expensive shares) taking a 12% loss.  Commentary:  i recently made two mistakes (VOD and CAH) selling too soon, so i held TSCO longer than i really wanted to.  My initial stop was pegged at $52, and i did not pull trigger.  My take-away is to have a more formal 3-phase dashboard when prices are pushing on sell limits — and hold myself accountable to taking the prescribed actions (not 'hoping for a bounce')

Yellow Alert = <-2% loss
Orange Alert = <-5% loss
Red Alert = <-7% loss
Action can be taken at any alert level, but a sell must be triggered at Red alert.
Possible trimming and cash building
Jeff Miller's Weekly Indicators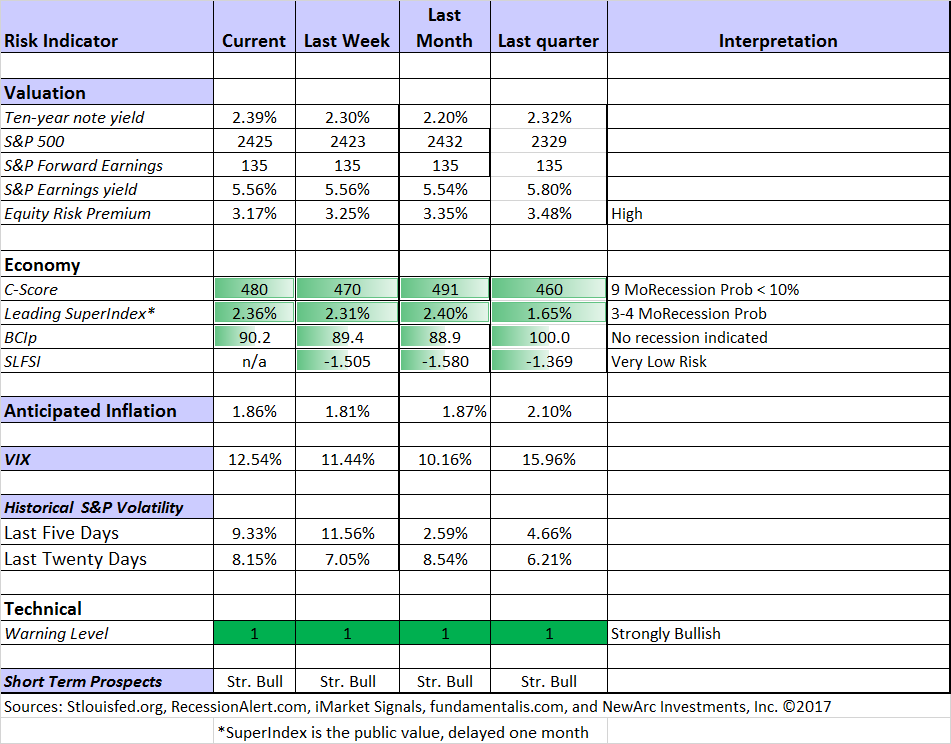 This is an interesting graphic … not sure the value other than "hmmm…"