My bias as tripped over the pivot point and i am now officially in bear land.  This weekly update is a reflection on the reviews required now that the bias has tripped. Just to be clear, the risk side of the equation (downside risk vs upside risk due to tougher macro conditions) has changed, and its time to rachet down capital appreciation expectations and work to preserve capital.  this also means increasing cash for what happens
Review all Radar Position 2 holdings for decisions – sell targets (based on valuation and dividend payment schedules)
Review all Radar Position 1 holdings for decisions – buying or trimming targets
Identify new Radar Position 2 or 3 holdings that may present opportunities with continued negative headwinds and continued low interest rates
Re-evaluate all holdings on discretionary / non-discretionary segments – with tripped bias, non-discretionary takes priority
Identify short positions in near and mid-term durations (either short sales or puts)
To borrow some catchy phrasing …. Do not be greedy here, and look to take advantage of others exaggerated fear or greed.  My reading this weekend is focusing on targeted deep dives, and opportunity screening:
CTWS – sell?
T – buy more?
TJX – sell?
NWL – which direction?
BMY – short?
MRVL – short?
NVDA – short?
PGX – buy?
PFF – buy more?
FIT – which direction?
Who is going to benefit from disaster rebuilding?  – electrical equipment, structural materials, etc
Here are some quick pointers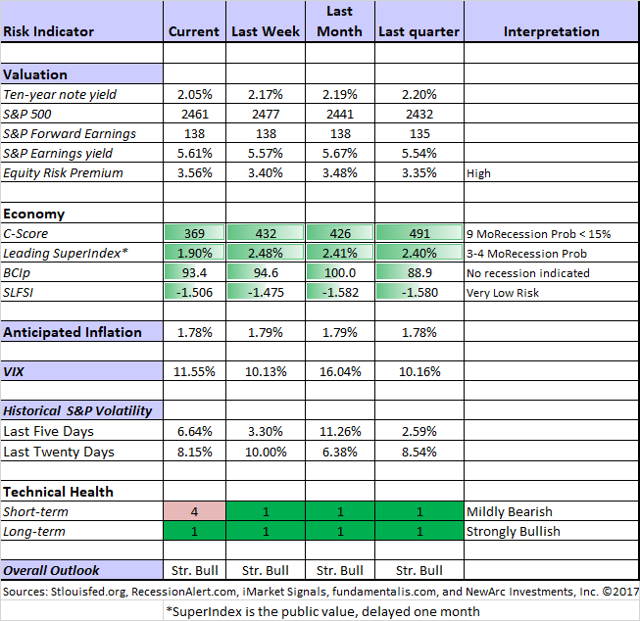 Reviewing the above … note the change in the 10yr note week change.  The yield went down and so did S&P, while not material.  Another interesting comparison, look at the "Anticipated Inflation" values – no change over the quarter.  But look at the yield on 10yr … wow.  What is driving the divergence?