Note:  This is one of my 'must read' posts every Sunday – here are the elements i found useful and interesting.
https://seekingalpha.com/article/4187277-weighing-week-ahead-anything-goes
Quote:  The punditry should prepare for a week where Anything Goes.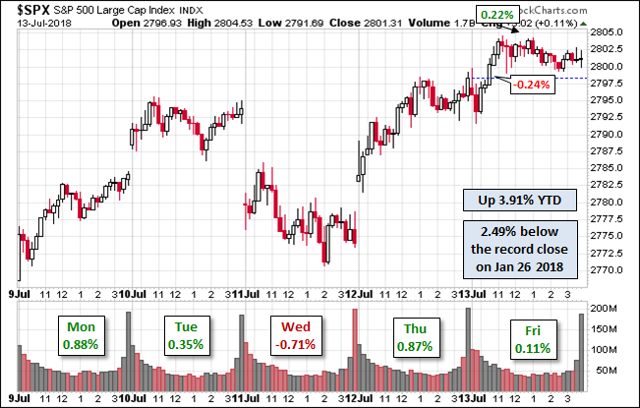 Jeff's comment:  "The market was up 1.5%, a very nice gain. The week's trading range was only 1.2, lower than the last few weeks and much lower than the long-term average."
My comment:  I am finding that 'big' money hits in last 10 minutes of trading days.  Look at the volume spikes at day's end.  This week each spike furthered the day's trend, yet Friday's end petered out.
CPI both Headline and Core  – External pointer   https://www.advisorperspectives.com/dshort/updates/2018/07/13/inflation-an-x-ray-view-of-the-components
I found this graphic telling 
More on sentiment — investor sentiment may have shifted this week – while as this author points out it's not 'really high'.   I pay attention to these shifts, both for contrairian indicator and increasing awareness on spikes in FOMO buys from inexperienced investors and traders.   http://www.horancapitaladvisors.com/blog/2018/07/12/sentiment-is-widely-positive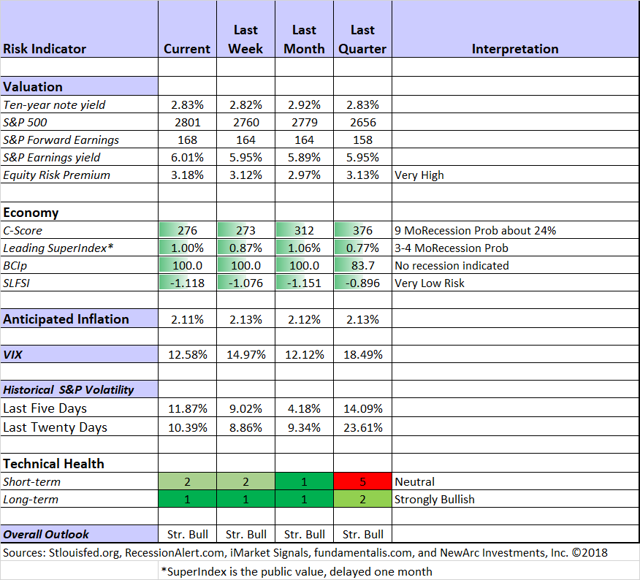 10 yr flat from last quarter
Higher S&P 500
Anticipated inflation down slightly, but risk of inflation increasing
External link to 7 year rate of return forecasts https://pensionpartners.com/the-next-7-years/
in many of the divergences, mutliple / value expansion beyond normal expectations ruled
seems sooner or later mean regression plays its part … the timing is always a mystery and its catalyst unknown as of yet
The one key take away from both prediction sets (2011 and 2018) is that rates of returns across the different groups are MUCH lower in the 2018 set.  – I agree
Jeff's closing had two points that i found interesting
Quote:  "Earnings season. Everything suggests a big increase over last year – 20% or so. The forward guidance last quarter was good, and the tax cut effects are playing out. This may not translate into higher stock prices unless the report is perfect. The market meme emphasizes trade war, strong dollar, and rising costs. Any company that highlights these themes in the outlook will see an instant reaction in the stock price."

Earnings conference calls should be brutal this quarter if folks are doing their jobs and folks w/ downside views are going to get punished severely.  But this also sets up companies exaggerating 2H 2018 and more importantly 2019

Quote on worrying topic:  "The trade war. With the apparently modest market reaction, more of the punditry is concluding that victory is in the cards. Actually, stocks would probably be about 10% higher without the trade concerns."

This i struggle with … i doubt if the FANG folks would be 10% higher, but maybe broader participation.