Simply stated … stock market blues 2-27-20
Simply stated … stock market blues 2-27-20
Today us investors had one hell of a day …
From Yahoo.com/finance
Mott Capital Management nailed it today in a rather long technical view of today's prices.
Copying the key visualization to support the quote …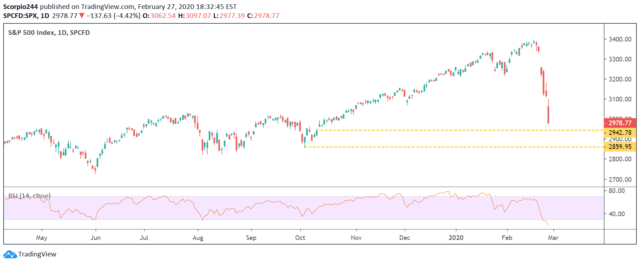 Quote –> "And if the market is going to destroy everything created from October on, it means it needs to go back to the very beginning. To somewhere between 2860 to 2940. But at this point, who knows! Nobody. This is what happens when you combine ETF's, Algo's, and leverage together."
The BOLD emphasis is mine … that nailed my view. These instruments were not that widely used the last time we had this magnitude of selling pressure both duration and depth. Until recently, they had only been 'tested' with upward pressure … we maybe in another financial science experiment like bundled mortgage-backed securities in our not-too-distant past.